This Valentine's Day, give your Valentine a little romance and a thoughtful gift from one of these Top 11 Valentine's Day Gift Ideas for Foodies, and watch those little cupids rain down the love! 
There's nothing like the perfect #ValentinesDay gift. The one that says, I LOVE YOU, I want to spend my life with you and even more romantic than that for me is, I want to cook with you;  and my pinnacle of romance, I want to clean up the kitchen for you! These 11 Valentines Day Gift Ideas for Foodies will say I LOVE YOU, DRINK WITH ME, COOK WITH ME and baby I LIKE IT HOT! You know what they say, If you can't take the heat, get out of the kitchen! So get shopping!
Who says practical can't be sexy? I LOVE romantic gifts but I also like the useful ones, cuz' this slightly overweight menopausal girl don't need another box of chocolates, if ya know what I mean! The only diamonds I need are in my diamond knife sharpener! Surprise your Valentine with a gift you put some thought into and SCORE!
Put a little LOVIN' in that Valentine's day oven! 
Great gifts don't have to break the bank! These 11 Valentine's Day Gift Ideas for Foodies come in a variety of price ranges so you can find the PERFECT one for your loved one!
Click the pics or links below to buy! Yes, I make a tiny commission if you buy here—It's how I keep the blog going. Just think of it as sending me a little Valentine's love, too! Mwah! 
Top 11 Valentine's Day Gift Ideas for Foodies
#1 – My Cinful Polka Dot Bikini Apron
Nothing says, I LOVE YOU more than
this adorable apron
(Princess Kota kitty not included). Durable cotton and washable, it's the perfect thing to spice up your kitchen romance. You can also find sexy man versions:

Creative Muscle Man Wearing Bow Tie Pattern Polyester Apron – Brown + Black + Multicolor
from: DealExtreme
#2 – Baskets & Chocolate: The gift that keeps on giving! 
Join the Chocolate Covered Strawberry Club! Send someone fresh, chocolate covered berries 4 times a year for just $29.99 each time at 1800Baskets.com!
I don't need chocolate but some people can't live without it! With this deal from 1-800Baskets you get the gift that keeps on giving! Chocolate covered strawberries 4 times a year. That covers Valentine's Day, Birthday, Anniversary and a bonus holiday of your choice! You can't lose with this one! Plus, 20% off with code:
LUV20
!
#3 – A Rechargable Ozeri Wine Opener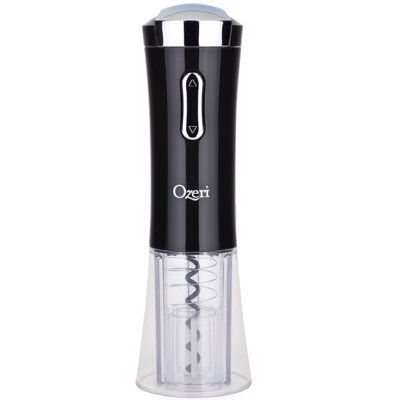 Ozeri Nouveaux Electric Wine Opener with Foil Cutter – $15.99
from: Wayfair
I LOVE this thing! I've never loved a wine opener more. Throw in a bottle of wine and it makes the perfect practical AND romantic gift combo.
#4 – A Vinturi Wine Aerator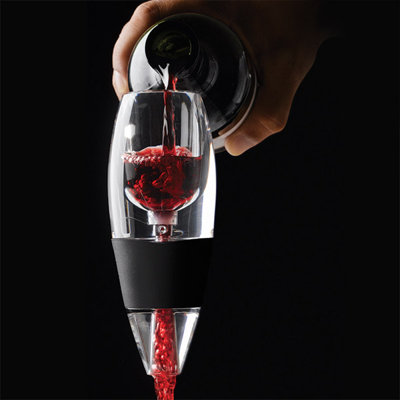 Vinturi Essential Wine Aerator – $20.32
from: Wayfair
Wine, like your Valentine, gets better with age. This wine aerator from Vinturi makes your wine blossom right out of the bottle. Be sure to add a bottle of wine with the gift so your romance can bloom too!
Speaking of blooms…
#5 – Flowers & Edible Bouquets
Flowers are a traditional yet still widely accepted as one of the most popular Valentine's gifts next to Jewelry and Chocolate. And if you want to take it up a notch try an Edible Arrangement! Edible fruit flowers dipped and chocolate are a seriously #Cinful combination. You can't lose with this one!
#6 – A Ninja 3 in 1 Cooking System

6-Quart 3-in-1 Cooking System – $129.99
from: Wayfair
Think a slow cooker doesn't scream romance? I am IN LOVE with Ninja, and I'm not just saying that. The convenience of the Ninja Cooking System has been awesome! Especially when making meals that would normally require stove top work before putting into a crock put. This is the PERFECT GIFT for creating comfort food and we all know that comfort food makes for cozy bed fellows! 😉
#7 – Bodum Stainless Steel French Press

Bodum Columbia Double Wall Stainless Steel French Press Coffee Maker – $79.95
from: Wayfair
Wake your special Valentine up with breakfast in bed this Valentine's Day, and include this gift as part of your presentation. It's as practical as it is lovely. French pressed coffee is the best you'll ever have and this pot is the only one I've found that will keep it warm and serve more than a cup or two at a time! I don't own a drip coffee maker!
#8 – IngenuiTEA Teapot
Does your love prefer tea to coffee? Snap up one of these Adagio Teas IngenuiTEA teapots and don't forget the Tea, too!
#9  – Nutri Ninja Blender Auto IQ Duo

Nutri Ninja Blender Duo – $163.99
from: Wayfair
Serve up a frothy libation for your lovely and make this blender a part of the deal. Nothing says loving like the gift that keeps on giving and this one does just that! Mas Margarita para mi amor, por favor!
#10 – An Electric Fondue Pot

3-Quart Fondue Pot – $56.99
from: Wayfair
Chocolate fondue for Valentine's day couldn't be a better gift, especially if it's paired with this awesome electric fondue pot! Buy the gift AND make the chocolate fondue in it and Cupid will be chasing you down!
#11 – Playful Silicone Gadgets
I LOVE playing with silicone! My kitchen is loaded with silicone spoon holders and pot holders and grab-stuff-out-of-the-oven-gloves that are part of my everyday food play. Buy them in red or pink to maximize the Valentine's theme or buy them in sets and pair them with other things. Of course, you could always break the bank for the silicon bosoms instead, it's up to you! 😉
Whatever you do to show your love this Valentine's Day; Be thoughtful and consider the message you want to send; and if these 11 Valentine's Day Gift Ideas for Foodies don't work for you, please share some of your own in the comments! I'd love to hear what other foodie's want for the biggest romantic holiday of the year!
Lindt Chocolate 50% off Flash Sale Friday 3/13

Free Local Shipping on Chocolate Gifts!