In keeping with those #NewYearsResolutions, Blistered Shishito Peppers are a #GuiltFreeGourmet delight To Die For! Yep, I'm grillin' in January and you can too! I'm lucky  to live in a state with almost 300 days of sunshine a year, so in between snow storms my gas grill is groovin'! 
SHEESH! Blistered Shishito Peppers are like candy to me. I'm not kidding! I could pop 20 of these babies in my mouth one after the other just like M&M's without even thinking about it. They are SOOOOOO good! I know what you're thinking. WHAT on earth is a Blistered Shishito Pepper? Unless you're a foodie or a sushi lover, I really wouldn't expect an answer. So I'll tell you…
…Shishito Peppers (pronounced: SHE-SHEET-OH)—careful I don't want to have to wash your mouth out with soap—are a super mild little bright green pepper with a big taste. They aren't hot—ok that's sort of a lie—about 1 in 20 is a little hot (Wikipedia says 1 in 10 but don't believe everything you read)—think medium salsa hot—so you could get a little surprise once in a while, but what is a good life without a little surprise? Hot one's don't really come along that often, I promise. I've eaten at least a couple hundred of these little green monsters and have only had two hot ones so far. That's way better than record #Powerball jackpot Odds! 
WAIT! Don't let the fear of one hot little shishito scare you away!
It would be so sad if you missed out on this perfect little natures delight just because you think ketchup is hot. If you get a hot one, spit it out, eat a little cucumber, have a little sour cream or bread and you'll be fine. C'mon, live a little!
Shishito Peppers are all the rage—trust me, it's a thing—especially in California and as it turns out, the People's Republic of Boulder. I hear they owe their popularity to sushi bars—which by the way I don't frequent so much, but I have friends who keep me in the loop.
I stumbled upon this piece of Asian exotica first at the Market Bar on the Embarcadero in San Fran (In English, that's a restaurant not a market or a bar, on the water near the Ferry Docks in San Fransisco), when I was there enjoying lunch with famous humorist and author, Diane Laney Fitzpatrick. You might recall her name from my Granny Smith Toasted Pecan Chicken Salad Recipe post where I discussed reuniting with my childhood babysitter for a day. BUT let's try to stay on topic for once, shall we? 
The Market Bar of course coined the term Blistered Shishito Peppers so I sort of stole that, but since I'm giving them street cred, I'm hoping I'll get away with it. ???? And I'm not just saying this to avoid a copyright lawsuit, the Market Bar has great food and service so go there if you get to city by the bay! Speaking of reviews, you should check out ours on Zomato!
And it must be something about hanging out with my #HometownGirls or it's kismet because I found Shishitos again in Boulder, Colorado at the Per La Gente at The Riverside,  while I was attending my high school friend Lisa Siciliano's photo/art show.
If you are a rock n roller or a fan, you MUST see Lisa's work! She is truly a bundle of awesome talent—She still takes pictures in black and white on real film. I mean, who DOES that? It's part of what makes her work timeless. Check out her site Dog Daze Photo. (Her teen daughter plays a mean guitar too!) 
Blistered Shishito Peppers – Finally, The How To
AND we're back to Blistered Shishito Peppers. In California and in Boulder, as I'm sure you would expect, I was presented with two very different and very tasty preparations:
Prep 1 – Market Bar: Blistered. Salted. Done.
Prep 2 – Per La Gente: Marinated. Grilled. Salted. Done.
Knowing me like you do, I'm sure you thought I went straight to Prep 1 to keep it easy on myself. I mean, I am the convenience queen, and a busy girl and geez, don't you know I have a blog to write? Uhm, Noooooooo. I took on the challenge and started with a my version marinade (prep 2).
It was really a very fancy schmancy marinade with mango rice vinegar and smoked campfire salt… But in order to do this California meets Colorado competition thing up proper, Dr. Double Portions insisted on a side by side comparison with prep one. It was a good plan and I gotta tell ya, as much as I liked the marinated version, in the side by side, the simple salted and Blistered Shishito Peppers version was the clear winner! Props to the Market Bar!
Now to be fair, the marinated version I created was my Food RE-engineered version. Not the same recipe as the marinated one's we had at the Per La Gente, which were really AMAZEBALLS–In fact, I think I may have to ask for their marinade recipe cuz' variety IS the spice of life. Mine were really good too, but in the side by side, we were just so delighted by the pure, gorgeous unadulterated flavor of the plane Jane Blistered Shishito Peppers we had to choose those (Prep 1).
So peeps, that's the version you're getting. My fav gets to be your fav. If you really want the marinade recipe I used, just leave me a comment below or shoot me an email and I'll be sure to include it for you. 
And Guess What?  Blistered Shishito Peppers are SO easy you will totes impress your guests and your in laws with such a fancy dish that only took you like 5 minutes to prep!
Blistered Shishito Peppers Recipe
In keeping with those #NewYearsResolutions, Blistered Shishito Peppers are a #GuiltFreeGourmet delight To Die For! Whether it's an app, snack or side, you can't go wrong with these tasty mild little gems!
Ingredients
30

shishito peppers

about 5 per person

pinch

corse sea salt
Instructions
Pre-heat grill.

Rinse peppers in water and leave them wet.

Place wet peppers on tinfoil with some room in between. (I use Reynolds non-stick)

Sprinkle generously with sea salt. Some will stick, the rest will fall on the foil. This is fine.

Grill on high (at least 400 degrees) for 15-20 minutes or until skin starts to blister and get brown.

Serve hot and enjoy!

You can eat the whole pepper. Seeds and all. Don't eat the stems! 🙂
Blistered Shishito Peppers Serving & Pairing Suggestions
Whether you choose to have/serve your Blistered Shishito Peppers as a stand alone appetizer or along with a meal, they can be very versatile. Their great by themselves, with a little Terry Ho's Yum Yum sauce, with or on burgers and even Asian noodle bowls! You can eat them whole or chop them up to put in eggs, tacos or like they are often served, with sushi! If you're having them with Sushi, Saki is definitely your first choice. With everything else, I recommend Casillero Del Diablo Reserva Sauvignon Blanc! You can get it HERE! Or have it delivered HERE and get $5 off your first order!
Where can I find Shishito Peppers?
In Colorado, I find them at Safeway stores, Trader Joe's and some asian markets. I'm telling you, they're an up an comer and a THANG so you should be able to find them almost anywhere soon! In the meantime, if you have a grocery chain in your area that sells them, please share your location and the store name with other #Cinners via the comments below.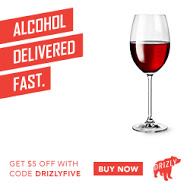 Get your low calorie cocktails here! Save $5, use code DRIZLYFIVE